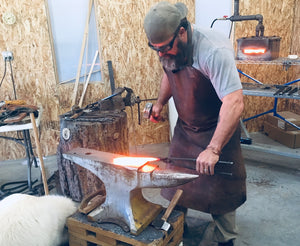 Classes - Intro to Blacksmithing / Catch the Spark - 2 hrs
Regular price $150.00 Sale
This class is designed to give you a taste of what the art of Blacksmithing is all about. A perfect choice for someone who is curious and just wants to try it out!
You'll learn a little about the forge and tools involved, but mostly will be guided through some hands-on projects and be given the opportunity to experience what it's like to hammer hot steal on an anvil and form it into something useful that you can take home!
These classes will be offered once a month only.
Time: 2hrs, 9 am – 11 am or 1 pm - 3 pm
Cost: $150 per class slot / there are only 4 slots per class
When paying for a class slot, please ensure you put your contact info in the notes at check out. This will allow me to contact you and ensure that the right people are showing up for the class. 
Notes: I provide all the tools and materials, but be sure to wear closed toed shoes and bring your own lunch. There is a fridge and water on site.

 If you need to cancel a class please note that 50% is non-refundable, if canceled prior to 14 days.
Anything within the 14 day window is 100% non-refundable, because I only offer limited classes with limited slots.
This is to ensure that if a slot is booked and paid for, it is occupied!.